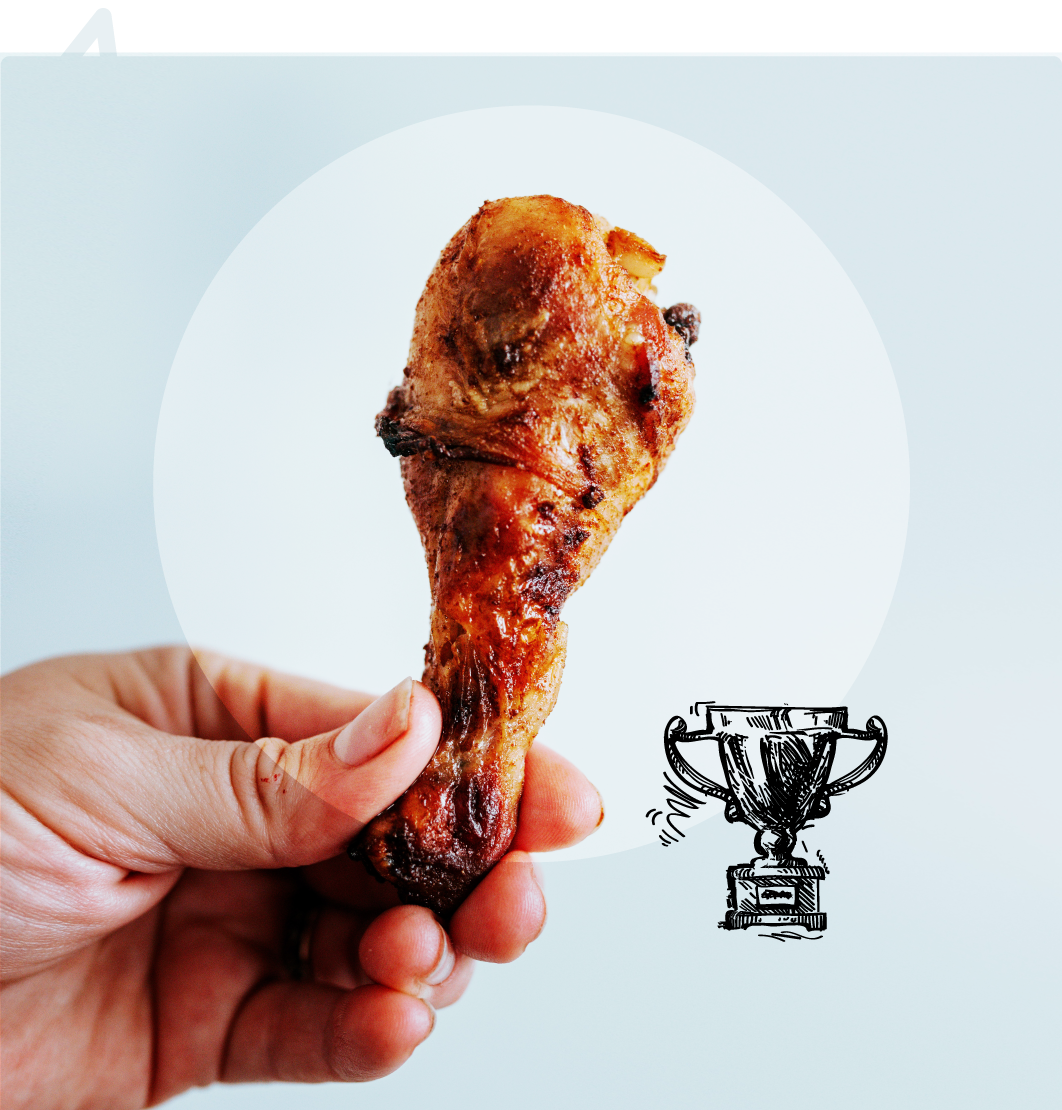 INTRODUCING KDSC'S FIRST-EVER SUPER BOWL COMMERCIALS AS SUPER BOWL APPETIZERS AWARDS. 
Sure, everyone is talking about how the media world is increasingly weighted toward digital platforms like TikTok, Facebook and Google, and that will certainly have dire consequences for shared media events like the Super Bowl and probably our culture at large—whatever—the apps we want to talk about are of the baked, simmered and fried kind.
THE "EVERYONE EXPECTS IT TO BE THERE BUT ULTIMATELY IT'S KIND OF A LETDOWN" TAKEOUT BUFFALO WINGS AWARD:
Bud Light - Hold
Beer commercials are supposed to be fun. Miles Teller and his wife recycling a dated TikTok trend…wasn't.
THE "GIFT THAT KEEPS ON GIVING, CRACK OPEN ANOTHER BAG OF CHIPS SO WE CAN ENJOY EVERY LAST MORSEL" 7-LAYER DIP AWARD:

NFL - Run With It
Legit concept. Athlete and celeb cameos (MrBeast! Billie Jean King!! Davante Adams in a parrot costume!!!). Uplifting message. Twist at the end. Heck, even the music was perfect. Can't wait to watch it again.
THE "COULD NOT HAVE TRIED LESS AND WE'RE ALL KIND OF EMBARRASSED ON YOUR BEHALF" GROCERY STORE VEGGIE TRAY AWARD:
Pringles - Best Of Us
If you felt like you'd seen this before you were 100% right. Pringles did the same gag last year, except it was fresher, funnier and the song they used actually made sense. Simply the Best? Um…no.
THE "SIMPLE, UNDERSTATED ALL-AMERICAN PERFECTION, YOU WIN THE PARTY AND OUR UNDYING ALLEGIANCE" MINI CORN DOGS WITH HONEY MUSTARD DIP AWARD:
The Farmer's Dog - Forever
You win. We'll buy your fancy dog food. Just need a few minutes to get all this dust out of our eyes. Congratulations on making a bajillion dollars from one commercial.
THE "OFTEN ATTEMPTED BUT RARELY PERFECTED" HOMEMADE TORTILLA CHIPS AND REALLY, REALLY GOOD GUACAMOLE AWARD:
Workday - Rock Star
A celebrity is practically mandatory in a Super Bowl commercial—but "let's get a celebrity" is not a concept. This was a concept that used celebrities in a way that felt natural, additive and connected to the brand.
THE "WENT ALL-OUT IN AN EFFORT TO IMPRESS EVERYONE BUT ULTIMATELY SUCKED ANYWAY" BACON-WRAPPED DATES AWARD:
Michelob Ultra - New Members Day And Michelob Ultra - Full Swing Gossip
As Judge Smails famously said, "What do you stand for, Danny? Goodness? Or badness?" Michelob Ultra chose badness.
THE "WE LIKED THAT WAY MORE THAN WE WANT TO ADMIT AND ATE FIVE OF THEM WHEN NO ONE WAS LOOKING" LOADED POTATO SKINS AWARD:
Crown Royal - Thank You Canada 
Everyone loves Dave Grohl but we really love squeezing a whoopie cushion. (Also, poutine is a top-tier party app)
THE "DESERVED TO BE AT THE PARTY BUT THEY WERE SO GOOD WE ATE THEM ALL ON THE CAR RIDE OVER" HOMEMADE BROWNED BUTTER CHOCOLATE CHIP COOKIES AWARD:

Heinz - LVII Meanz 57
This was their ONE big shot at this idea, and they executed it great. If only they would have put it on during the Super Bowl…
THE "CHARCUTERIE BOARD" HONORABLE MENTIONS:

Dunkin' - Drive Thru
Good on Ben for having some fun with it. He deserves it after his miserable date night at the Emmys.
Sam Adams - Your Cousin's Brighter Boston
This campaign has often made us roll our eyes, this spot made us not roll our eyes and instead laugh with our mouths.
T-Mobile - New Year. New Neighbor.
Most T-Mobile ads are bad. So was this one with John Travolta and the guys from Scrubs. But it just made us kind of happy to see them all so happy and singing together. Is that so wrong?